Build Day Live! Educating Your Enterprise
Today, we get to build networks and then break stuff in fun ways. Rohan Naggi will step us through what happens when one of the Internet connections becomes unstable. We also learn about setting rules for when connections go down.
Rohan Naggi sets up the VMware SD-WAN device as Jeffrey Powers Unboxes the Edge 510 Unit. Alastair Cooke then sets up SD-WAN on his AWS instance. 00:00​ Intro 3:55​ Unbox the Edge 510 9:35​ Configuring the Edge 510 32:42​ Configuring SD-WAN on AWS
In this episode, Rohan Naggi teaches Alastair Cooke the basics of SD-WAN and how the VMware SD-WAN (formerly Velocloud) follows these principles. This is a 4-part series on VMware SD-WAN, installation, and configuration.
Build Day Live! focuses on showing people how your product will fit in their data center. It is – in so many words – an alternate source material and marketing product. We do Day 1 Installation into an infrastructure, and go over the pros and cons with your leading engineers, support, and more. 
Build Day Live! also gets a deeper insight into the company, finding out why this product exists, and how it can benefit the company 5, 10, or more years down the road. 
Build Day Live!
CTO Advisor
AMA
Social Networing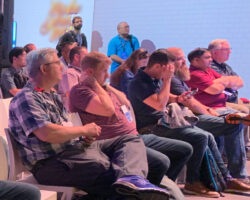 Internal Videos
Gorilla Guide
Blog Posts
Alastair Cook
Jeffrey Powers
To give Enterprise IT an alternate place to start when deciding what to add to their Data Center. Build Day Live is a Day one approach to install, using the top experts of the company.
Your question is not here?