Build Day Live! Educating Your Enterprise
Do you want to own the management of your vSphere on Cloud deployment? Or would you prefer to consume a managed service for vSphere on Cloud? I suspect opinions will be divided here, some favoring self-managed and some choosing a managed service. In our project with the CTO Advisor team, where we built out the Oracle Cloud VMware Solution (OCVS). We saw a self-managed platform rather than a managed service. Self-managed does not need to mean self-deployed; the OCVS cluster deploy wizard is as slick and clean as we have seen. But once the OCVS has deployed your cluster, the rest is up to you. You get full access to manage as you see fit, even root access to the ESXi hosts if that is what you need. Managed services have their own opinions The whole point of a managed service is that the vendor has decided the right way […]
Adopting a vSphere-on-cloud platform will often be driven by integrating existing applications with newer cloud-native applications. One of the surprising realities is that the network integration between vSphere on Cloud and the cloud platform is not always as seamless as you might expect. After Cloud Field Day 7, I wrote about my desire for better network integration from VMware's own vSphere on Cloud service. Our latest Build Day Live project with the CTO Advisor team was to integrate the Oracle Cloud VMware Solution (OCVS) with the CTO Advisor Data Centre (CTOADC). We were able to incorporate the CTOADC network with the Oracle Virtual Network (OVN) and the OCVS network without needing VPNs or different routing for the vSphere infrastructure layer and the workload VM layer. Proximity Matters Cloud-native services are driving the adoption of public cloud platforms for building digital interaction applications. Digital interaction means allowing customers to use a […]
Build Day Live! focuses on showing people how your product will fit in their data center. It is – in so many words – an alternate source material and marketing product. We do Day 1 Installation into an infrastructure, and go over the pros and cons with your leading engineers, support, and more. 
Build Day Live! also gets a deeper insight into the company, finding out why this product exists, and how it can benefit the company 5, 10, or more years down the road. 
Build Day Live!
CTO Advisor
AMA
Social Networing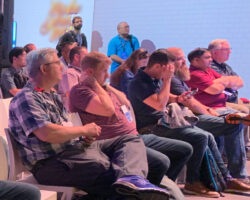 Internal Videos
Gorilla Guide
Blog Posts
Alastair Cook
Jeffrey Powers
To give Enterprise IT an alternate place to start when deciding what to add to their Data Center. Build Day Live is a Day one approach to install, using the top experts of the company.
Your question is not here?